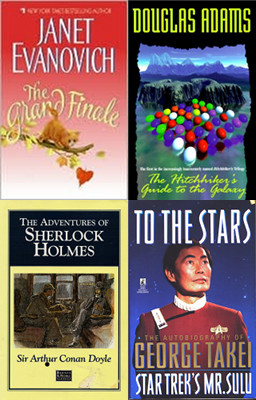 … and one that is currently red.
These are not just books I happened to have lying around. On the contrary, I picked them up while browsing the Used Book Superstore (all except for the red one), specifically because I enjoyed them. They aren't necessarily my favorite of favorites. (For that, see the Talyn giveaway, which is at least one of the favorites of my favorites.) But I rated each one at least 4 stars strong. And each one has vibrant and memorable characters, which is the most important element in a story.
These four books come from a range of genres: romantic comedy, sci-fi comedy, autobiography, and classic mystery.
See at the bottom of this post for how to enter the giveaway.
Here are the books:
The Grand Finale, by Janet Evanovich
Janet Evanovich is a guilty pleasure of mine. This is not fine literature, nor great romance. It's more akin to the Love Boat in print. It's about a woman who starts up a pizza place, which apparently is part of her life plan, then peeks in a hunk's second-story bedroom window while he's getting changed–honest, she had climbed that tree originally to rescue a kitten–and falls out of the tree right on top of the hunk's pizza, which she was supposed to have been delivering. So begins a life-long romance. Uh huh, uh huh.
I actually had this mass-market paperback lying around. I had bought it new, read most of it, misplaced it, and then made a special trip to a Barnes & Noble retail outlet in order to get a replacement copy so that I could finish it. This copy is still in pretty good shape. Some creasing of the paper spine, some minor nicks, no dog ears.
The Hitchhiker's Guide to the Galaxy, by Douglas Adams
If you've never read the book, you're missing most of the jokes. Tries a bit hard for the humor sometimes–and I know at least one person who thought the humor ran thin after a while–but I enjoyed it all the same. Had me laughing till the end. And remember to bring a towel!
This paperback of the first in the series, I picked it up at the used book store. After I got it home, I noticed on the title page: "To Angelo from the two women in his life– Fellicia & Xristina july 13 1998" (or something like that). That's part of the fun of buying books at the used book store; you come home with copies of books that have their own untold stories.
To the Stars, by George Takei
The autobiography of Star Trek's "Mr. Sulu." I years ago picked up a copy of this from a bookstore surplus rack, because I'm a long-time Trek fan. (But I've never been to a convention, nor ever dressed myself in a Star Fleet uniform.) I truly enjoyed reading his story, from his childhood in a Japanese internment camp during World War II, through his early acting career–lean times, through Star Trek and past. Despite the fact that he's a famous actor, his story comes off as real-life, down-to-earth, sans melodrama. The book also includes a selection of photos from George Takei's career.
This paperback copy I found at the Used Book Superstore. It has a black mark across the bottom, probably because it was originally overstock. Indeed, there's a small sales receipt between the pages, from someplace called "Great Books," for two remainders (i.e., overstock books) plus 5% sales tax, paid for by VISA, on May 28, 1999. The cover also has some minor dings and creases.
The Adventures of Sherlock Holmes, by Sir Arthur Conan Doyle
Everyone has heard of Sherlock Holmes, but not everyone has read the original stories. Still they are some of my favorite mysteries.
So when I saw this hardcover of his Adventures, a dozen short stories originally published in serial form, I snatched it up. There are dings and sticker remains on the dust jacket, but the book itself is in excellent condition, a wonderful introduction to the world's most famous detective.
How to Enter the Giveaway
Leave a comment below, on this post, in order to enter the giveaway to win all four of these books. Be sure to enter your email address in the appropriate field below. (It won't appear on the website, but if you don't leave me your email, I'll have no way to verify your entry or to contact you when you've won.)
On the morning of Friday, December 17, I'll select a winner at random. (One entry per unique email address.) I'll email the winner to find out where to send the book. And if you respond quickly, you'll probably have it in time for Christmas!
Big Book Giveaway
Check out the other book giveaways from Big Book Giveaway 2010-2011.
Subscribe to this blog for future updates. Or go to my Facebook page and click "Like." Or follow me on Twitter.
-TimK