Nothing like taking a hike with someone you love, during the first sunny days of Spring. And that's what I and my Beloved did this past Monday. It was the first time we had visited Lowell-Dracut-Tyngsboro State Forest. But since we've moved to the Merrimack Valley, it's now a 10 minute car ride down a country backroad. So we spent Easter Monday morning together, and enjoyed each other's company.
I managed to get one photo. The LDT Forest (as I like to call it, for short) is more than 15% wetlands. Here's a view of (I think) Spruce Swamp, from the north.
(You should be able to click on any of these images for a larger view.)
The next day, my Elder Daughter became jealous that we had gone to the forest without her (even though she had been otherwise engaged). So she and I went for our own hike, which turned into a bigger adventure. This time, I remembered to take more photos.
We started at the main parking area in Lowell, hiking north up Trotting Park Road, toward Tyngsboro.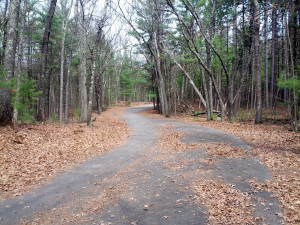 Eventually, we reached the town line. We had hoped to find the exact spot where Lowell, Dracut, and Tyngsboro meet, but only got close. Here's a view looking toward Spruce Swamp from the road, near that point.

Beware of wildlife. We thought he was a stick!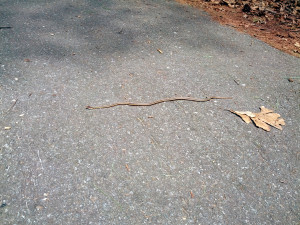 We turned left to follow Trotting Park Road toward Lake Althea. On the way, we encountered more wetlands. Have the beavers been to Tyngsboro?

At the edge of the forest, we turned left so we could continue to hike through the Tyngsboro section of the forest.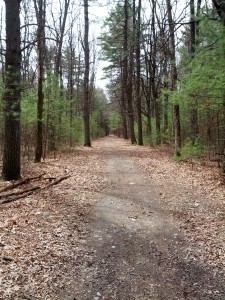 We took a winding trail off of the main (though unpaved) road.

The trail took us behind the private property along the lake, and we eventually made our way to the tiny parcel of land where the state forest meets the water.

Whoever lives next door really doesn't want any uninvited visitors. But at least the ground on his side of the fence is not littered with as much trash.
We then hiked down to the south edge of the forest, planning to follow the trail down along that edge, back into Lowell, and to where we parked the car.
The trail started getting thin, but at least we had clues that we were still in the right vicinity.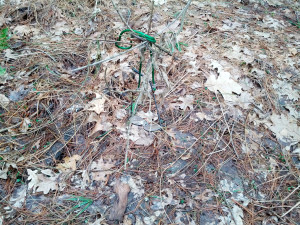 Unfortunately, we kind of ran out of trail.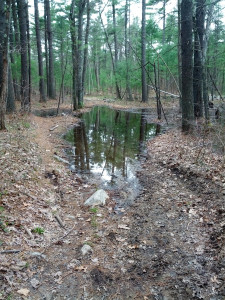 Seriously, though, the trail kinda came to an end. At this point, we were really running late, and getting a little nervous, and feeling a little lost. And because I'm not a true documentarian, I promptly forgot to take any more pictures.
We tried to backtrack up toward the lake, but ended up turning the wrong way and going back out toward the forest exit, which I guess would have eventually taken us into somebody's back yard along Sherburne Ave. And that's not where we wanted to go.
So we had a little bit of an argument, in which my daughter pressed the idea that we want to stay on the path, and I pressed the idea that this was definitely not the path we wanted to follow. And we finally decided to turn around, and ended up back on the path we had originally come down. And walked alll-the-waayy-arouunnd back the way we came, back to the main parking area where we parked the car.
Total hiking time, about 2 hours.
My legs hurt.
-TimK
Did you enjoy this post? Why not leave a comment below and continue the conversation, or subscribe to my feed and get articles like this delivered automatically to your feed reader.