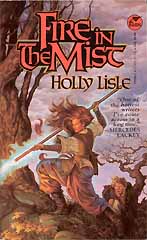 A simple shepherd girl discovers her wild mage powers after a murderous magician destroys her family. Now every mage in the world wants to train her. But Faia wants only to confront the madman who killed her loved ones.
I was going to read something other than another Holly Lisle book, but I'm enjoying this one too much. Besides, it was too conveniently located on my ebook reader. Last year, I did manage to acquire a printed copy of Fire in the Mist. But I had also downloaded an electronic version from the Baen Free Library.
(And as you may know, I agree completely with Eric Flint regarding the rationale for giving away these ebooks. Please support the project and Holly, and download this classic Holly Lisle fantasy novel for your own ebook reader.)
Today's teaser, from page 32 (randomly selected by Random.org) of Fire in the Mist:
"Why did they all die?" he whispered.

… If I knew that, I would be the greatest Healer that ever lived, instead of just an unwilling student of herbs and roots.
Teaser Tuesdays is a weekly bookish meme, hosted by MizB of Should Be Reading. Anyone can play along! Just follow the directions at the "Teaser Tuesdays" post.
-TimK
Did you enjoy this post? Why not leave a comment below and continue the conversation, or subscribe to my feed and get articles like this delivered automatically to your feed reader.